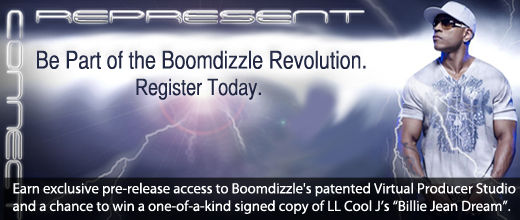 LL Cool J Interview Rocks
SxSW With Boomdizzle.Com
Austin, TX (March 13, 2010) — LL Cool J was interviewed by PepsiCo's Digital Speakeasy on Saturday March 13th, 2010. The web audience was invited to ask questions of the legendary artist and founder of BoomDizzle.com.

Boomdizzle.com invites aspiring artists and fans to collaborate, record and distribute music. The site's technical revolution will begin soon with the upcoming launch of The Virtual Producer Studio.

In the interview, LL Cool J talked about the Virtual Producer Studio saying that, "Ultimately I just wanted to bring the entire world of music together and really just make the recording process flat for the whole world so everybody could have access to the platform and be able to record around the whole globe."

By going to www.BoomDizzle.com/Revolution artists and fans can request pre-release access to the patented Virtual Producer Studio technology. One lucky registered user will win a one-of-a-kind signed copy of LL Cool J's "Billie Jean Dream". Visit Boomdizzle.com/revolution today to register for the Virtual Producer Studio, and to check out the replay of LL Cool J's interview from SxSW and hear how Boomdizzle will revolutionize music.
Boomdizzle. Want2BFamous?

For Media Inquiries:
email press@boomdizzle.com