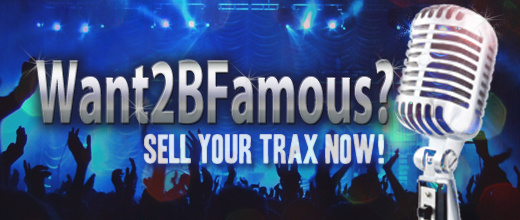 Boomdizzle Networks launches Want2BFamous?TM with iTunes
LLCOOlJ's digital platform Boomdizzle.com extends fame to online music community
Palo Alto, CA. – (June 9, 2010) – Boomdizzle Networks today announced the launch of the Want2BFamous? package with iTunes – a new feature allowing artists in the Boomdizzle.com online community to upload a song to the iTunes store under the Boomdizzle record label. Designed to offer aspiring artists the chance to gain worldwide fame, the Want2BFamous? feature enhances online music distribution for artists by releasing and promoting songs directly to their fans using the Boomdizzle Networks technology and brand.

Each week, the artist with the highest number of tracks sold on iTunes will be featured as a Premier Artist in the Boomdizzle Artist Spotlight – a virtual showcase including placement on the Boomdizzle.com homepage, social media distribution, and a blog post sent to more than 50,000 influential industry leaders.

"This is an amazing opportunity for new and independent artists to have their music instantly heard and purchased by fans worldwide," said LLCOOlJ, creative director and co-founder of Boomdizzle Networks, "I want to give every aspiring artist the chance to achieve their dreams. Everyone deserves a shot at greatness, and the Want2BFamous package gives them that shot."

Boomdizzle.com enables up and coming artists to release original recordings, remix and reproduce their favorite tracks, distribute music to an online community, and interact with other artists who can rate, comment, and rank their user-generated musical content. Using the brand's tagline "Want2BFamous" as a featured retail item, the new package gives artists the room to extend their awareness through new media.

Since its initial launch, Boomdizzle has seen growth of its online music community with millions of viewers and users and reached international success with Luther "Squeak" Jackson, the first artist signed to the Boomdizzle label. Sparked by Boomdizzle, his single "My Dreams" was covered by Korean boy band Super Junior who sold 44,000 records on the first day of release and is now on track to go Double Platinum. "As the first Boomdizzle artist, I am amazed at the success of my song. I know all aspiring artists can appreciate a platform like Boomdizzle giving them an outlet to get their music heard," said Jackson.

"Boomdizzle is changing the way music is created, promoted, and distributed. Our mission is to continue to provide worldwide exposure to the next generation of talented artists. I want my creative torch to light theirs," said LLCOOlJ.

Artists may now log-on to www.boomdizzle.com/want2bfamous to purchase the Want2BFamous? package. Once purchased, artists may select a song to be uploaded to the iTunes store.
For Media Inquiries:
email press@boomdizzle.com